Software

Communication for Automation "OPC" Open Platform Communication
Advanced Communications and Interoperability Platform
KEPServerEX Options
| | |
| --- | --- |
| Advanced Tag Option | Advanced Tag Option |
| Local Historian plug-In | Local Historian Plug-In |
| DataLogger Plug-In | DataLogger Plug-In |
| Industrial Data Forwarder(IDF) for Splunk Plug-In | IDF for Splunk |
| IoT Gateway | IoT Gateway |
| OPC Alarms and Events | OPC Alarms and Events |
| OPC UA Client Driver and OPC UA Server - OPC UA Tunneling | OPC UA Tunneling |
| SNMP Agent Option | SNMP Agent Option |
| Security Policies Plug-In | Security policies Plug-In |
OPC Router IoT Data transmission platform

Data transmission platform that reinforces KEPServerEX
Summary
OPC Router is software with data input, processing, recording and output functions developed by inray (inray Industriesoftware GmbH, Schenefeld) in Germany.
The OPC Router replaces old communication channels – up to complete integration of PLC (programmable logic controllers), PCS (process control systems), SCADA, MES (manufacturing execution systems), SQL servers, label printers, email servers and ERP systems. The OPC Router as the central communication platform offers automated data exchange by integrating all systems and isolated applications from sensor to the cloud.
Continuous optimisation and automation of your production processes is the crucial factor behind the quality of your products, the efficiency of production as well as the success of your business.
KLEC is the general agency in Japan for the IoT data transmission platform "OPC Router".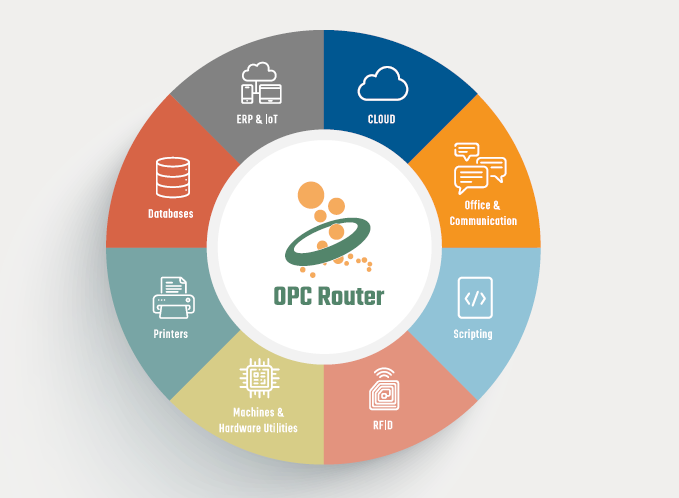 Kepware & OPC Router Configuration
OPC Router is a software package that complements the Kepware Real-time Data Platform.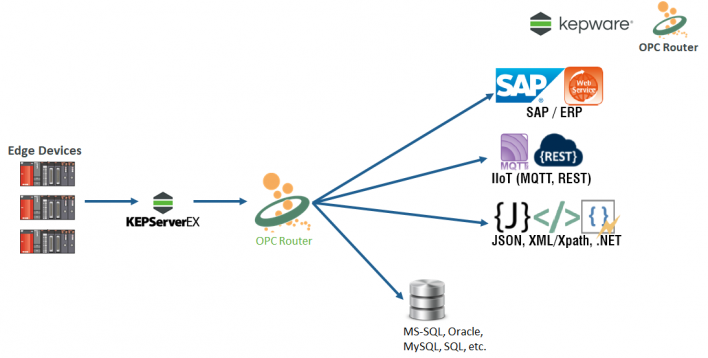 OPC Router Product Features
| | |
| --- | --- |
| Data processing | OPC Router 4 - Basic & Plugin |
| Data output | OPC Router 4 - Excel ... |
| Data communication | OPC Router 4 - MQTT、OPC、OPC DA、OPC UA、DB、ERP、SAP、ThingWorx ... |
| Data transmission | OPC Router 4 - Email、Printer ... |
OPC Router Project Configuration Kepware(KEPServerEX)
Kepware → Excel
OPC Router 4 Basic
OPC Router 4 OPC
OPC Router 4 Excel
Kepware → MQTT
OPC Router 4 Basic
OPC Router 4 OPC
OPC Router 4 MQTT Plug-In
Kepware → DB
OPC Router 4 Basic
OPC Router 4 OPC
OPC Router 4 DB
OPC Router 4 SAP
Contact Us
For inquiries, questions, consultations and requests for quotations regarding Kepware (KEPServerEX) and OPC Router
Please feel free to contact us at the following.
Japan General Agent Kanto L Engineering Co., Ltd.

TEL:03-5688-9800 / Web:https://www.kepware-japan.com/
Kepware Sales Coordinator:
 IoT Business Group Affiliation
 ・Masatoshi Ueno E-mail:This email address is being protected from spambots. You need JavaScript enabled to view it.
 ・Erina Oi(maiden name:Ichikawa)E-mail:This email address is being protected from spambots. You need JavaScript enabled to view it.